Combat Creatures, Giant Attacknid
Challenge:
Launch a brand new toy in the US market for the first time with an independent toy company budget. Meaning that paid media on scale was out the window, we needed something that would grab attention.
Insight:
Through social media analysis and understanding our community we learnt that our audience loved gadgets that were larger than life, and loved the opportunity to customise this toy.
Solution:
We worked with the people who make the Robot Wars house robots to create a 5ft tall fully operational version of the toy, taking it around the US to tech fairs and visiting tech publication offices. Alongside this approach we worked with a series of robotic influencers on a free product basis, with the influencers customising the toy as they pleased.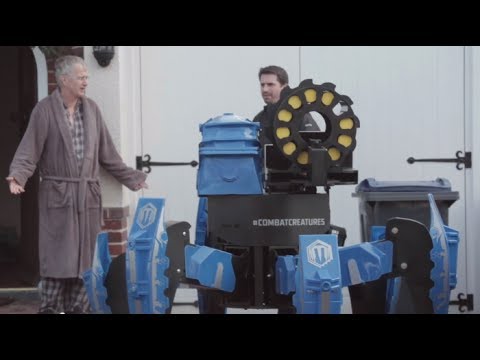 My Role: Strategist / Creative / Project manager

Campaign results:
- 5m+ earned YouTube views through free influencer partnerships
- 33k+ likes, 2500+ comments on earned YouTube content
- Press coverage on Letterman, AOL, Venturebeat, Gadgetman and others
- Invited to Google's 'Googleween' party at their Pal Alto office, securing placement in their newsletter to all staff
- Got it front and center of the KFC christmas advert that year (2013)
- End of year 2 on the project the toy was licensed into Hasbro's Nerf range